Enchanted Airlie 2019, Raving Fans Club Event
Our kick-off Raving Fans Club Event was a huge success! On December 14th, 2019, we were able to bring 112 past clients, current clients, and friends to Enchanted Airlie for a great Christmas surprise.
Enchanted Airlie
Enchanted Airlie is a great holiday time event. During this time, the Airlie Gardens are transformed by dazzling lights and holiday music. What a wonderful way to celebrate the great season! Walking through this beautiful location with your family and friends is an adventure not easily forgotten. We are proud to be able to provide this opportunity for so many to experience with their families.
Golden Tickets
We wanted to give everyone that feeling of excitement when they pulled out their own coveted Golden Ticket. Each hand mailed out to all of our participants, this was their ticket to ride the trolly!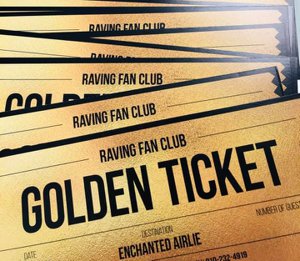 Trolly Rides
We wanted to bring even more to this experience, so we decided to transport everyone to a beautiful trolly! Going to and from Enchanted Airlie, what an amazing way to experience our great city and enjoy a wonderful ride together. Everything looks better from an old trolly window!
Raffles
In the name of the season, we wanted to give even more and make this event fun for everyone. We prepared gifts and raffles for all ages. Everyone was able to at least take home some candy and some even got more! Ranging from giant chocolate to some super stylish light bulb necklaces. This was a fun way to get to socialize with each other, before the trolly ride!
The Future of Raving Fans Club Events
Being able to give back to the people who have made our company such a success is something that we will always be proud to do. Your recommendations, referrals, and support has always been the foundation for our fast growth. We hope to be able to continue to offer events like this at a higher frequency in the coming years. So keep a lookout for more events coming soon. We try to reach out to everyone. However, if you haven't connected via social media yet, it is the best way to stay connected.